Visiting China again after a decade was a wonderful experience where I was able to revisit a number of cities to see how much things had changed over twelve years. Starting the trip in Beijing, where so much grew with the Summer Olympics in 2008, was a glimpse into the two time lines of China.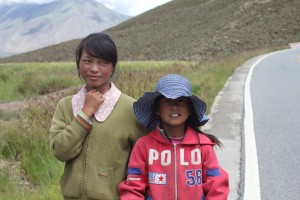 Ancient temples and pagodas intermingled with high rises and modern government buildings. This was the perfect first stop experience, taking in the Forbidden City in the morning and the Summer Palace in the afternoon. Our first nights feast was fresh noodles and eggplant and with the first taste of chili sauce our trip took off.
The western ancient capital of Xi'an gave a glimpse of the Terracotta Warriors and the original city walls that once protected the end of the famed Silk Road to Europe. It is a city with a large Muslim quarter and vast number of college student give the city a nightlight with thousands strolling around the city's central drum tower. Xi'an also happens to be the dumpling capital of China so be prepared to eat them in mass once you get there. From Xi'an the road headed south to Chengdu in the hot and humid Schezwan province. A nice small Chinese city (2 million!) with bamboo tea gardens, flowing rivers, and spicy spicy spicy food. It also provided us with the opportunity to spend a day with the Pandas in the famous Chengdu Panda Preserve where they have over thirty Pandas to see. Chengdu is the gateway to Tibet and from here the flight was several hours over the most amazing span of mountains I had seen before. Lhasa is at 13,000 feet and a world apart in climate from the humid air in Chengdu, it goes from feeling really thick to all of the sudden really thin. After the first day dealing with headaches we were able to climb the steps to the Potola Palace and visit the Jokhram Temple where there was a unending stream of ornately sculpted and decorated Buddhas of different origins. I was very grateful to have the chance to visit Tibet and was sorry to leave but braced for the change flying back into Shanghai. We lucked out and got blue skies there too, thanks to a rough typhoon season, and enjoyed the magnificent skyline. Shanghai was a great way to end a trip, a nice hotel and a rooftop bar, where you can finally enjoy the unbelievably hot weather.
It was a perfect trip and I am happy to be back in the foggy city with lots of new stories and pictures to remember it.